ENHANCE YOUR HOME'S CURB APPEAL 
Landscape lighting is a great way to highlight the best features of your home's exterior and make it stand out. Whether you're looking to add some extra light around your driveway or highlight your beautiful topiary, landscape lighting from Chesapeake Electric can transform your outdoor space into an outdoor oasis at night.
Not only will landscape lights add a sophisticated and inviting look to your property, but they also enhance safety by illuminating every corner of your property. Chesapeake Electric offers several different types of residential landscape lighting services. Schedule a consultation to discuss the best landscape light options for your specific needs and budget.
Why You Should Get Exterior Landscape Lighting Installed
Increase safety: Outdoor lights make it easier to see obstacles in the dark, making it safer to walk around your property.
Improve home security: Exterior lights can deter intruders and alert you to suspicious activity.
Enhance the exterior of your home: Installing low-voltage lights around your outdoor space can add a touch of sophistication and beauty to your home's exterior.
Increase the value of your home: With the right landscape lighting design, like a combination of decorative low-voltage lighting and bright floodlights, your home's value can increase significantly.
TYPES OF OUTDOOR LANDSCAPE LIGHTING
Chesapeake Electric provides a wide range of outdoor landscape lighting options. Some of the most popular types of outdoor lighting include:
Path Lights:

 Illuminate walkways, driveways, paths, and gardens with low-voltage landscape lights.

Spotlights: 

Highlight specific landscape features, such as trees or water. 

Flood Lights: 

Add bright lights to larger areas like patios or decks. 

Step Lights:

 Brighten steps and stairways for easier and safer movement.

Wall Lights:

 Include soft, ambient light on walls and fences.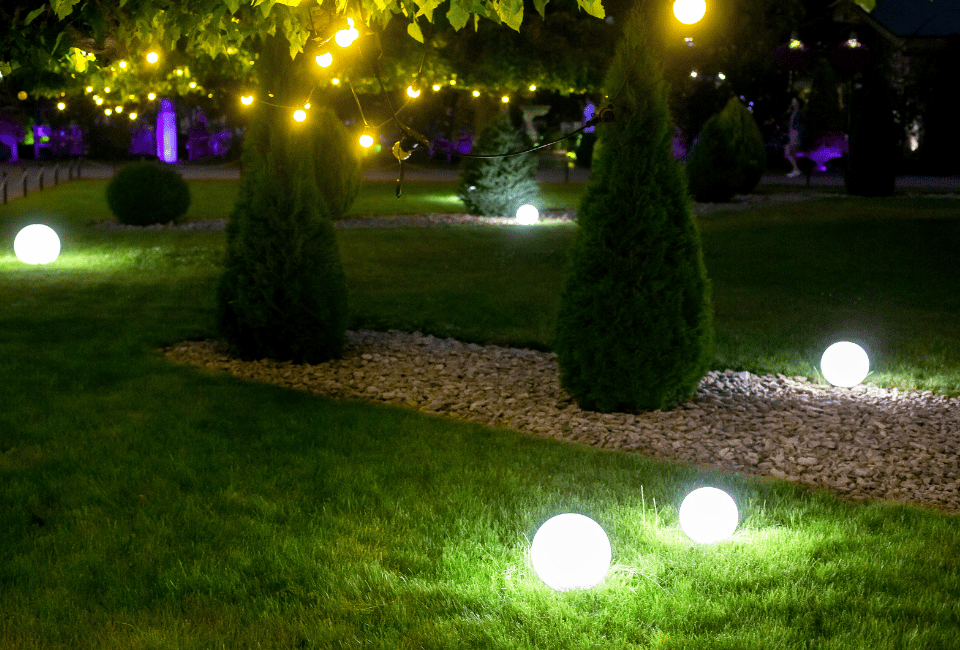 Outdoor Lighting Done Right
Proper Illumination Will Increase Safety And Security, Bringing Out The Best Features Of Your Home Or Business. Landscape Lighting Can Also:
Enhance the mood and feel of your outdoor space
Visually connect indoor and outdoor spaces alike
Illuminate your home or business and landscape
Brighten paths for improved safety and security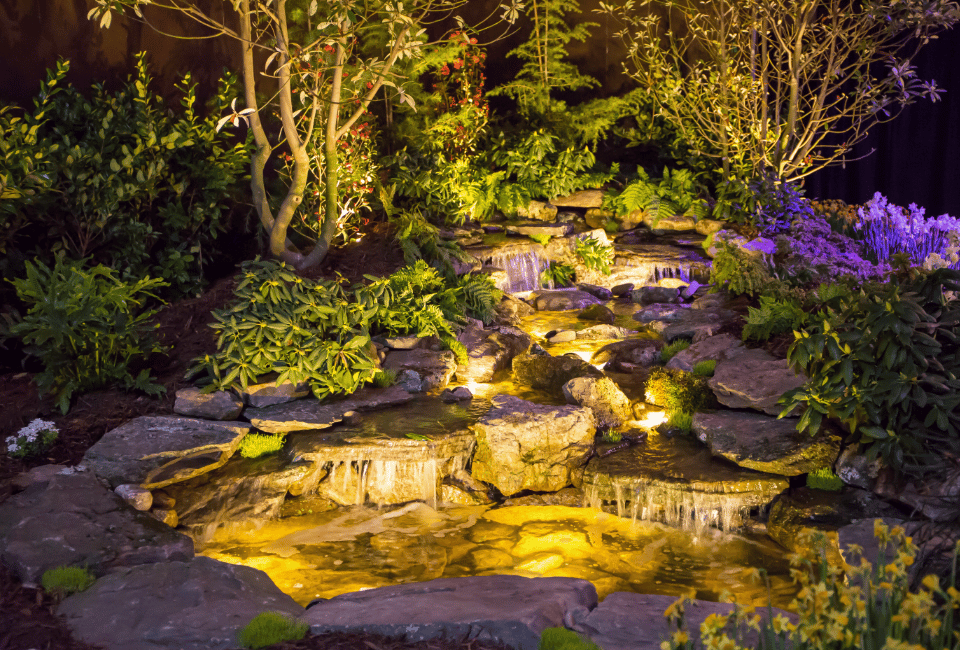 Customized Landscape Lighting Designs, Ideas, & Plans
At Chesapeake Electric, we understand that every home requires a unique landscape lighting design. Our team of experienced electricians can help you create a custom lighting plan that fits your exact needs and budget.
We offer various lighting options, from bright floodlights to low voltage spotlights, and can help you choose the best fixtures for your property. We can also provide design ideas and suggestions so you get the most out of your landscape lighting.
Why Choose Chesapeake Electric For Landscape Lighting?
While most landscape lighting companies focus on either efficiency or an aesthetically pleasing design, Chesapeake Electric focuses on both. We want a well-lit outdoor space that looks beautiful and doesn't run up your utility bills, even if you prefer leaving the outdoor lights on all night. We will comply with your area's local residential electrical codes so that you can expect safety from issues like short circuits and fire hazards.
Chesapeake Electric is a team of fully licensed and insured electricians ready to take any high- or low-voltage landscape lighting installation job, irrespective of its size. We can handle it all, whether you want to install outdoor electrical connections or utilize solar lights for energy efficiency. Chesapeake Electric also offers a warranty on the installation labor so you can be sure each light fixture keeps working properly.
CONTACT THE LANDSCAPE LIGHTING EXPERTS AT CHESAPEAKE ELECTRIC
A landscape lighting system might include everything from low voltage wire connectors and transformers to security floodlights and energy-efficient LED lights. With so many components to consider, a DIY landscape lighting attempt can easily go wrong. You need an experienced electrician to install lights and update the wiring in your outdoor space. Chesapeake Electric has been installing landscape lighting for a decade so you can be confident in the quality of work and professional service for your new outdoor light fixtures. Whether you want to install a new landscape lighting system or upgrade your existing outdoor lighting, Chesapeake Electric is here to help. We have worked hard to stand out in the industry, and we are excited to show you what we can do on your next lighting project. Schedule an appointment to get a quote today. Our professional technicians are standing by to install landscape lighting to improve your home!
Schedule Service