When you need electrical work on your home in Millersvilee, MD, finding a professional with a valid electrician license and necessary experience should be a top priority. Hiring the right company to provide electrical services could save you time and money.
Chesapeake Electric is your best option when it comes to safe and reliable electrical work. We can give you peace of mind by providing a detailed explanation of the work to be performed and a complete estimate. We also have the appropriate property damage insurance for all our work. Each master electrician on our team is fully licensed and properly trained to install, upgrade, repair, and maintain your electrical equipment and system. It's no wonder we are employed regularly by Millersville residents!
As your residential electrical needs grow to accommodate modern appliances and devices, our electrical business will be there for you. Whether you need to upgrade your service panel or install new lighting, our team of residential electricians can handle the job. We understand that every home is different so we take the time to assess your needs and develop a custom solution. Here are some of the reasons why we believe that one of our licensed electricians is the ideal choice for your property:
Expertise from Our Master Electrician
Our licensed electrical contractors in Maryland have completed a rigorous licensing procedure to demonstrate their ability to execute tasks safely and effectively. To keep their license in good standing, they've also maintained continuous education, which has kept them up to date with the most recent electrical innovations.
Finally, our electricians are well-versed with all safety issues and take all necessary precautions when working in your house. At Chesapeake Electric, we strictly follow the Maryland State Board of Master Electricians' safety standards! You can rest assured that you are in safe hands!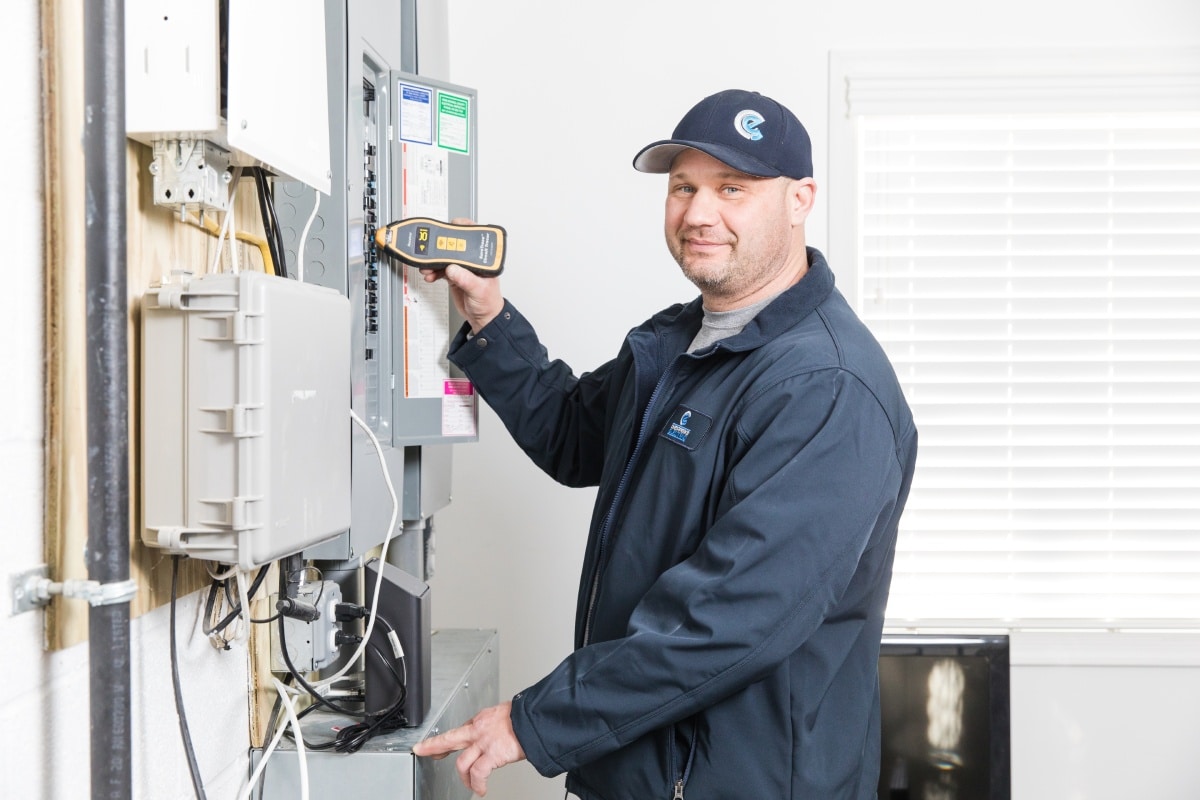 No Shortcuts in Our Electrical Services
When dealing with challenges, generally, people naturally want to take shortcuts. However, when it comes to electrical issues, taking shortcuts is never a good idea. Electrical systems hold a lot of dangerous power and are under strict regulations to avoid hazards that lead to electrical fires and other bad situations. Chesapeake Electric never skimps on material and follows follows all procedures without taking any shortcuts.
We also offer electrical inspections as part of our services at Chesapeake Electric. Our experts take pains to thoroughly check the wiring in your home as they repair low voltage equipment. If problems are discovered, our electrical examiners have the professional training, tools, and access to replacement parts and components. We are always on the lookout for anything that may threaten your safety or quality of life!
Our Maryland Licensed Electricians Are Available to Assist You!
We have a team of competent commercial and residential electricians at Chesapeake that can be engaged to supply quick, efficient, and premium electrical services to residents and companies in Millersville, MD.
From the installation of new wiring and fixtures to maintenance and repairs, our electricians have the necessary certification and electrical licenses so we are always available to attend to your needs. We understand that power outages and other unforeseen issues can be a huge inconvenience, which is why we also offer emergency services to our clients when it is necessary.
Do you require the services of a residential electrician in Millersville or the surrounding areas? Contact us online or call us at (410) 280-3388 to schedule your service with our electrical trade professionals today and let us assist you!