Install Home Standby Generators from Chesapeake Electric
At Chesapeake Electric, we understand the benefits one of our home standby generators can provide for your Annapolis, MD residential property. Residential generators can save you hundreds if not thousands of dollars during a power outage, and it will also allow you to stay in your house during a prolonged black-out. Home standby generators may seem like significant investments, but in the event of a power outage, they quickly pay for themselves – and then some!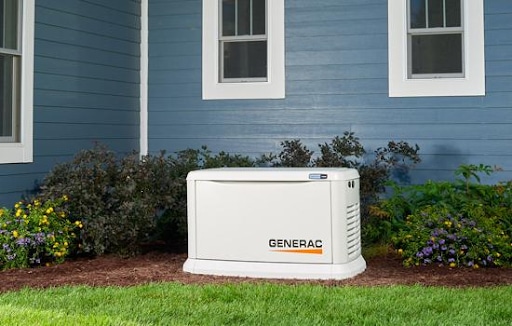 Home Standby Generators
When you lose power at home, having one of our home standby generators can save you money, hassle, and priceless peace of mind. The essentials of heat and air conditioning that we all take for granted leave us uncomfortable and irritated when they shut down without warning. Other amenities, like our computers, televisions, phones, and the ability to charge them all, can disrupt our lives when they suddenly no longer work. In the event of a power outage, having a home standby generator installed at your residential property can not only return your investment in purchasing and installation but also save you thousands of dollars.
These problems and more can be avoided with the installation of a home standby generator. Up to hundreds of thousands of dollars can be saved when you allow one of our residential standby generators to power your Annapolis, MD home during a lengthy outage. Our professional technicians will be with you every step of the way, providing you options and unrivaled commercial electrician services.
The Benefits of Home Standby Generators
No Relocating Costs
Gone are the days of having to relocate your entire family during a power surge. Having to pay for a hotel for even one night can cost several hundred dollars, and sometimes power outages last weeks or even months at a time! Having a home standby generator will allow you to wait in your own home for the power to come back on rather than wasting time and money on a hotel stay.
No Frozen Pipes
In a winter power outage, pipes can freeze and burst, causing expensive repair work, potential mold growth, and prolonged displacement for you and your family. Home standby generators keep the heat on in your home, so you and your pipes won't freeze!
No Flooding
When utility power fails, and your basement sump pump stops running, flooding becomes more likely. Clean-up and remodels afterward can cost hundreds to thousands of dollars. A home standby generator will ensure that your sump pump will be able to function optimally, preventing damages done to your basement because of flooding.
No Spoiled Food
If the power goes out, it's only a matter of time before the food in your refrigerator goes bad. Having to throw out all your food during a power outage is not only wasteful, but it is also costly. Home standby generators will ensure your food stays fresh, and your bellies stay full!
Improved Safety
Lack of electricity in your home just isn't safe. Lack of heat, light, communication devices, and more can pose many dangers to those in your residential property.
Lower Homeowners' Insurance
Many Annapolis, MD insurance companies will offer loss mitigation credit to those homeowners who choose to invest in home standby generators. Insurance companies view this appliance as an investment that works to reduce the chances that you will submit an insurance claim for damages done to your property during a power outage.
Peace of Mind
Peace of mind is priceless. You can finally feel at ease knowing regardless of the power-outage situation, you have back-up power in your home when you need it the most. Home standby generators will keep your heat on, your electronics working, and, most importantly, your family safe.
Reliable Home Standby Generator Installation
Don't wait for the power to go out! Have one of our residential generators installed in your home today to save yourself valuable time and money. Our experienced electricians perform residential generator installation for homes in Annapolis, MD, and beyond. When you're ready to make the smart investment and install a standby generator in your home, our experienced electricians will take care of the entire process for you.
Contact us today to learn more about the processor to receive a free estimate. We look forward to adding a smart solution to your residential property!