There is little to no doubt that installing outdoor security lights is an effective way of safeguarding your home. At one time, it seemed that outdoor lights were only meant for commercial properties; now, however, most households in the Annapolis area also use these lights for the many security benefits they offer.
A major study found that outdoor lighting can cut crime by 39% and offer residents safety while protecting valuable assets. Outdoor lighting has been proven to reduce vandalism, theft, break-ins, and even sexual assaults. It is a simple fact that people are less likely to commit crimes when their activity is exposed in direct light.
Despite multiple benefits, some homeowners often overlook outdoor security lighting for homes. Read on to learn what benefits outdoor security lights offer and how they keep you and your property safe. We'll also tell you about the factors to consider when choosing outdoor lighting so you can make an informed decision.
Do You Really Need Outdoor Security Lights? What Are the Benefits?
There are numerous benefits to having your home and its surroundings illuminated by outdoor security lights. Here are just a few significant benefits you should know about.
Reduces Risk of Criminal Activity
Burglars, thieves, and other bad actors hate a well-lit area because they cannot conceal their criminal activities. Security lighting is usually installed in a way to brighten the entire property so there are no dark areas left where criminally minded people can hide and execute their plans.
Enhances Efficacy of Security Systems
Modern security cameras come equipped with infrared technology for enhanced visibility in the dark. However, when paired with outdoor security lights, these cameras capture things better and with higher quality.
Outdoor lights have higher lumens (brightness); therefore, they can illuminate the field of view of these cameras during dark hours to improve video clarity.
Lowers Insurance Premium
One of the heftiest expenses Americans have to bear is the home insurance premium. By using outdoor security lights, you can save some money on this expense. A properly lit home is less likely to be broken into and robbed, which can put insurance companies at ease.
Equipping your property with these lights can help you save a significant amount on insurance in the long run.
Drives Away Unwelcome Guests
While a bright security light won't prevent your irritating aunt from visiting, they work well in keeping intruders away. Furthermore, unwelcome guests aren't just burglars and other criminals; they can be wild animals as well, especially if you live in a rural area or near a forest. Thus, preventing nocturnal critters from digging through the garden or trash is important and a great light can help scare them away.
Curtails Chances of Accidents
Dark evenings can make it difficult for your family and guests to walk around the home and may result in tripping, falling, and bumping-into-something accidents. Installing outdoor security lights helps reduce the risk of such accidents.
Increases Property Value
Everyone wants to buy a home that promises safety and security. Having a well-lit outdoor space increases security and puts the mind at ease. Whether you plan to put a for sale sign on your home soon or further into the future, installing security lights is advantageous for increasing the property's value.
Last Longer and Save Money
The "outdoor" word in these security lights means durability. Outdoor lighting is built with stronger materials than most indoor lighting and is meant to survive in the elements. Many of these features are also LED lights, which have a longer lifespan and better illumination; turn on by motion sensing, which means they're not always on; or get have a solar panel, which means energy savings. Another benefit is you'll use fewer lights if you mix flood lights and decorative lights to create a balance between aesthetic and practicality.
All to say, you get a better return on investment while properly illuminating your home's surroundings.
» More: How Property Owners Can Benefit From Outdoor Lights
Factors to Consider When Choosing the Best Outdoor Security Lights for Your Home
The aforementioned benefits are enough to prove why installing outdoor lights is practical. If you have decided to go the extra mile for better home security, here are some factors to keep in mind when designing your lighting plan.
Types of Outdoor Security Lights
There are different types of outdoor security lights available for residential purposes. While each light serves the same purpose, i.e., lighting an area, each is designed to fit in a different place and has different brightness and features. Here are some common security lights that we install in local homes.
Flood Lights
These security lights are suitable for homes with driveways, larger patios, decks, outbuildings, etc. The lights flood a dark area with illumination and provide a lot of light. Furthermore, flood lights come with adjustable heads, which allows focusing the light on the exact space you want.
Driveway Lights
You need ample light in the driveway in order to keep your vehicle secure. These lights also help you safely get your car up and down the driveway safely because the path is lit up and the lights provide guidance. They can be a decorative touch for your landscape as well.
Entryway Lights
A home's entryways deserve significant protection and should be well-lit. Other than deterring intruders, these lights make it easier for residents and guests to walk in through the entryway, especially during dark hours. Entryway lights have bulbs mounted above a door or at ground level s0 anyone approaching the entrance will see clearly.
Automatically timed Lighting or Outdoor Motion Sensor Light
A great feature of some outdoor lighting is being able to set them on a timer, meaning they'll go on automatically. It's a perfect way to make sure they're only on when dark out and will still turn on if you are away for a few days. Our experienced electricians and technicians will work with you to understand your needs for these security lights and program them accordingly.
Similarly, you can install lights with motion sensors that only turn on when they sense movement. As a result, you don't have to manually turn motion sensor lights on/off.
Your outdoor security lights will offer security while saving power.
Spot Lights
These lights are ideal for illuminating special landscape or building features. They serve multiple purposes by being decorative while still providing extra light.
Outdoor Wall Light Fixture
If your house has more than one entrance or a pathway nearby, these outdoor security lights are an excellent choice. Installed on the walls of the home, these lights illuminate the doorways and sides of the home. They are helpful in deterring intruders and unwelcome guests, but can also be attractive. The wall light fixtures are an important part of your outdoor aesthetic.
Standing Lamp Posts
Houses that lack ample lighting fixtures in their surroundings can benefit from standing lamp posts. These lights illuminate different areas around your home, such as the walkways and driveways. A standing lamp post can provide good security if you have a big yard. They also look good as a whimsical design feature.
Outdoor Ceiling Light Fixtures
Covered areas such as an outdoor patio, deck, or gazebo need lighting too! There are some beautiful outdoor ceiling light fixtures that are helpful in securing those areas as well. If you keep anything valuable outside, like a grill or an outdoor television, some lighting can help deter thieves.
Are you looking for more security at your home and want to install security lights? At Chesapeake Electric, we supply and install the best outdoor lights for homes in Annapolis, Severna Park, Crownsville, and other Maryland cities. We are a customer-focused company that puts your needs first and delivers outstanding service. Call us at (443)-716-7095 for more details or contact us online.
What Areas Do Outdoor Security Lights Cover?
There are multiple areas where you can have outdoor lights installed for better property security.
When you hire a professional company like Chesapeake Electric, we can design a complete security lighting system according to the specific landscape of your property and needs of your area. We will identify potential security and safety risks by surveying the property, then advise you on most advantageous spots to place extra lighting.
Here are some important areas that outdoor security lights should cover:
Doorways
The doorways are the first target of intruders and need maximum security at all times. You'll also want an adequately illuminated doorway to ensure that people can come and go safely at night. Plus, it adds an appeal to your house's façade.
The lights should be added at all the entry and exit points. You might want to put lights near windows that are big enough for someone to break into as well.
Pathways
It would be best to illuminate the pathway leading your home, as it eliminates the hidden spots intruders can use to conceal their actions. Furthermore, these lights will help you navigate to the house safely during dark hours.
Animals are also afraid to take shelter in bright places, so the pathway will remain clear most of the time.
Parking Area
It's not just your house you that needs to be secure. Intruders might have their eyes on your car and its contents; therefore, it makes sense to protect it. By using driveway lights and floodlights, you can ensure that your vehicle remains is lit to deter robbers.
Stairs
Is there a staircase outside your house? Maybe it leads down a steep hill or to a lake or maybe it reaches the second or third floor? If you answered yes, you need security lights there too in order to keep trespassers on guard. Moreover, these lights help reduce the risk of people tripping and falling!
Prominent Landscaping
Those pruned bushes and gorgeous trees in your yard may look amazing, but they can cast long shadows and create spaces for intruders to lurk. Not only will spotlights feature your favorite plants, but they can also decrease opportunities for dangers to hide.
Any Exterior Places that Appear Dark at Night
Outdoor security lights are a must for every exterior area that appears dark at night. They provide light to the driveway, lawn, porch, walkway, outdoor kitchen, deck, etc., to make it visible from a distance.
Features of Outdoor Security Lights
Now let's consider some of the features that a good outdoor security light should possess. These features can significantly impact the security and convenience outdoor lights offer. Here are a few things you should take into account:
Lumens
The lumens define the brightness of these outdoor security lights. For example, most flood lights have higher lumens than driveway lights because the former is meant to cover a more significant area. Here's a brief chart to give you an idea of the lumens the lights in each area need:
✍️ Note:
This chart is just for reference, and you should consult an expert outdoor security light installer for recommendations.
Weather Rating
Typically, outdoor security lights are highly durable and can withstand the test of time. However, the seasons in Maryland are varied so your outdoor lighting must be made to sustain in tough conditions.
At Chesapeake Electric, we use high-quality outdoor lights from respected brands that can withstand harsh weather. Call us at (443)-716-7095 to book a service appointment, and get the best outdoor security lights installed on your home.
Migration With Smart Home Apps
Imagine the ease of controlling the outdoor security lights from anywhere in the world. You can consider the potential migration with smart apps when choosing outdoor security lights. With this feature, you can monitor your property remotely and you can control these lights via your smartphone. No matter where you are, you will know if the lights are on or off.
At Chesapeake Electric, we offer smart home technology installation so you can control multiple appliances with a few clicks and taps on your smartphone.
How to Choose the Best Outdoor Security Lights Installer for Your Home Needs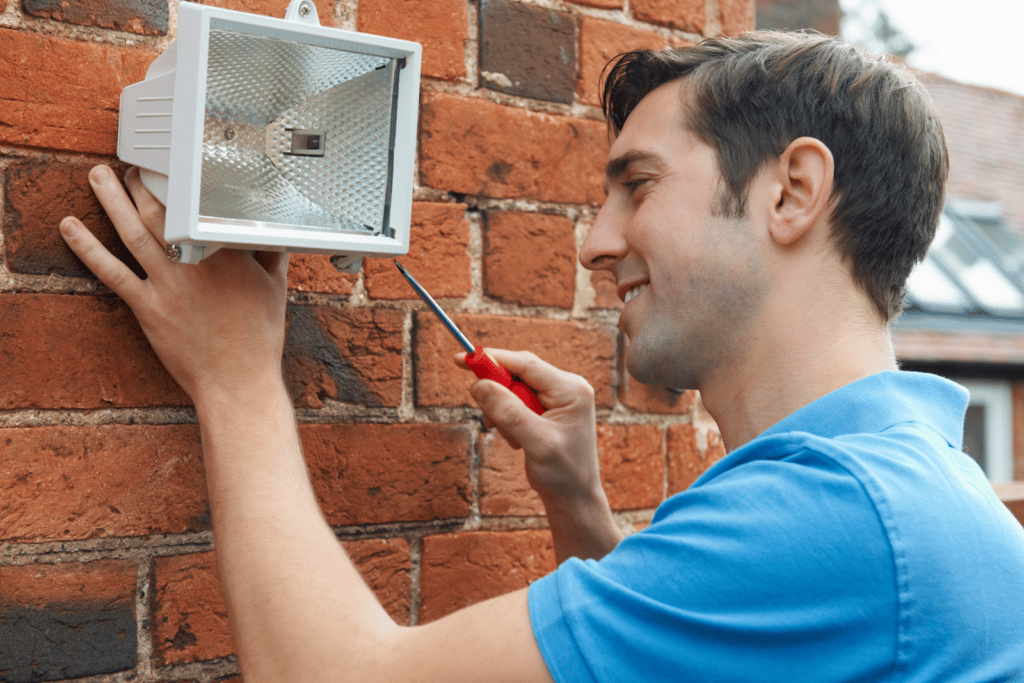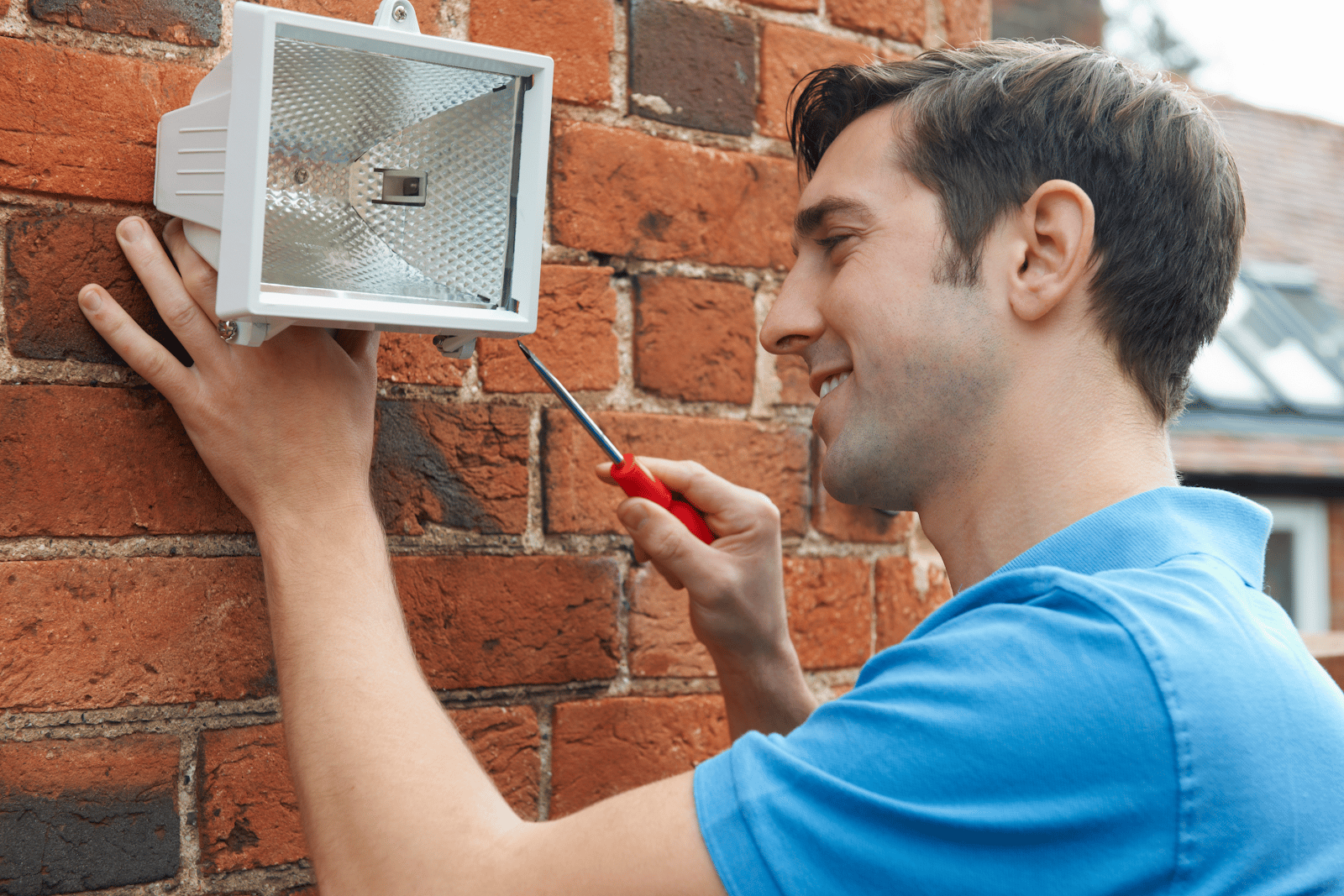 With outdoor security lights in place, you be confident about the safety and security of your house. However, you should seek the help of a responsible security light supplier and installer. Below we have listed some factors to help you select the right company.
They Should Be Experienced
Look for a security lights installer that has been in the business for at least a few years. These companies understand customer needs and offer the best tailor-made solutions.
Chesapeake Electric has been providing outdoor installation services for many years. We will help design a thorough outdoor security lighting plan for your property and will deliver unmatched services.
Our master electricians are knowledgeable about all types of outdoor lighting systems. They can recommend the most suitable and cost-effective solutions.
They Should Be Local
If you live in Annapolis, Clarksville, Chester, Stevensville, or any other city in the area, you need a master electrician that operates locally. Much like every other piece of equipment, security lights need timely maintenance and would benefit from the knowledge of someone who knows the unique challenges of the surroundings.
They Should Understand Your Requirements
Every property is different, and so are its outdoor security light needs. Trust a company that puts you first and listens to your requests. For example, if you do not want the hassle of manually turning the lights on/off, the company should recommend outdoor motion sensor lights.
Chesapeake Electric is the name you can rely upon for security light installation. We take care of our customer's needs and understand them well to give them satisfaction with our quality services.
They Should Believe in Practicality
You'll easily find companies that give on-the-phone estimates. However, it is not feasible in the case of outdoor security light installation and is a sign of the electrician being less than stellar. Go with a company that surveys the area before providing you with a detailed estimate.
Contact Chesapeake Electric for Your Outdoor Security Light Needs
Installing outdoor security lights is one of the best ways to keep your property safe. They do more than just offer extra security; they also improve aesthetics and reflect your personal style.
If you have decided to install outdoor lights, you can trust Chesapeake Electric. We are a locally owned and operated company in the Annapolis area. No matter how big your property is, we can install the right type and amount of security lights to make it more secure.
The best outdoor security lights offer many benefits. From lights with motion detection to solar lights installation, you can get various products from Chesapeake Electric. When it comes to keeping your home safe, we ensure the job is done right!
Don't leave your house vulnerable to trespassers and accidents; get outdoor security lights installed to take the steps towards making your property more secure.
Contact the professionals at Chesapeake Electric for all your outdoor security lighting installation and maintenance needs. Call us at (443)-716-7095 or schedule a service with us today.