Electrical installation is one of the most important aspects of a new commercial construction project. With the right electrical setup, you can ensure that your commercial space will be well-lit, have all the necessary outlets for electrical equipment, and be safe from electrical hazards.
Before your construction crew and subcontractors get started, it's critical that you have secured temporary power for the construction site. This ensures that no building delays occur due to electrical issues.
At Chesapeake Electric, we know how vital it is to complete the electrical installations during the construction of new commercial buildings, which is why our team of electricians can help keep your build on schedule while you focus on completing other aspects of the project. By consulting with us before starting any construction project, you can ensure that your facility is well–prepared for when your crews arrive.
With any commercial new construction, electrical systems often become an afterthought as the scope of the project changes and progress slows down. However, without proper electrical design for building construction, your business may suffer reduced productivity or potential damage if electrical problems arise.
This article discusses the various aspects of electrical systems required for new commercial construction. We hope this information will help you to understand more about the importance of electrical setup in your upcoming commercial projects.
Why Do I Need Electrical Design for Building Construction?
Each commercial construction has special needs when it comes to electricity. The requirements differ according to the size and complexity of the project. In addition, the location where you plan to build your commercial structure also affects your choice of electrical system.
Commercial electrical wiring should be planned in advance so that the building can access electrical energy before even pouring the foundation. A thought-out electrical system helps ensure that future renovations won't interrupt operations. If wiring is not properly installed, there could be expensive repairs that you'll need to pay for later.
From the temporary electric poles to help power the construction work sites to the structural wiring, lighting fixtures, communications systems, and sockets, numerous aspects must be incorporated into the electrical drawings before starting your commercial construction work.
A strong electrical system is essential to keeping your advanced industrial equipment and other tools running smoothly throughout the construction project. Without proper planning, you could compromise your commercial area's safety and functionality because of poorly designed electrical setups.
In some cases, the costliest part of a construction project can end up being the electrical system. Therefore, it pays to consult with experts who can provide advice on the best way to set up your commercial electrical system.
A licensed, certified electrician should always do any electrical installation for new construction. This ensures that all the necessary electrical codes and safety standards are met.
Contact the pros at Chesapeake Electric online or call (443)-716-7095 today to learn more about our experience and expertise working with commercial builders in Annapolis, MD and the surrounding areas!
Essential Electrical Setup for New Construction Sites
Commercial electrical systems require careful attention to detail. You don't want to start building your office or manufacturing facility only to discover that you've overlooked a critical component. Your electrical designer can help you create the right setup for your building so you know your system will operate efficiently once you finish your building.
Every commercial building requires different types of equipment. A strong power source is essential for all the electrical components used during construction. From powering advanced industrial equipment to designing sophisticated electrical installations, an experienced electrical contractor knows how to ensure each aspect of the job gets off to a good start.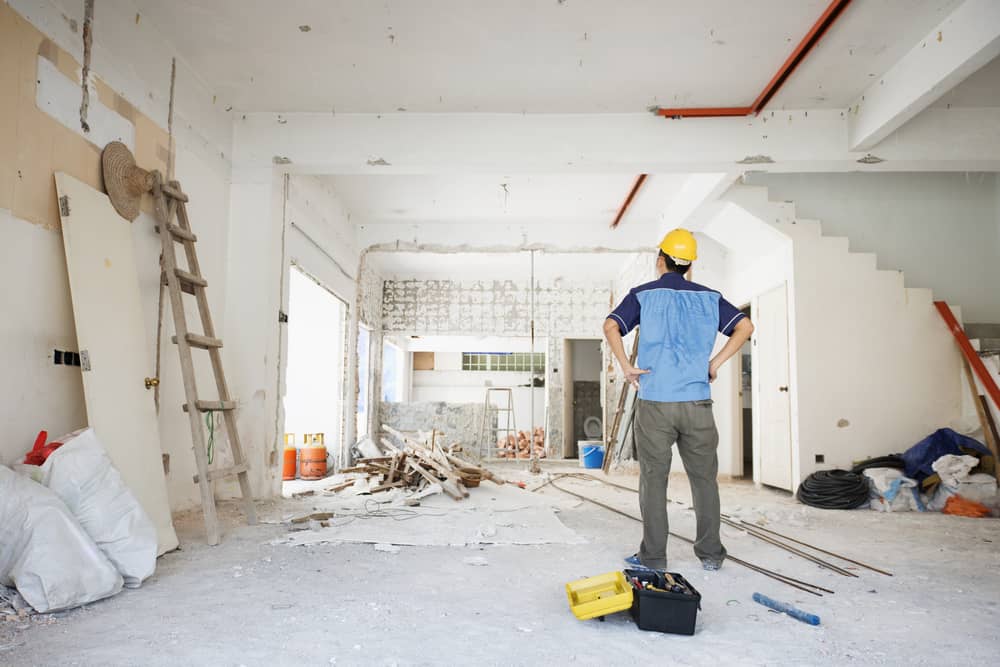 Here are a few key elements that must be considered while setting up the electrical system for your new commercial building:
Understanding Project Scope
In any new construction, electrical wiring is built from the ground up. It starts with the temporary power source that supplies your construction site. Then, everything else is added as the building progresses.
Knowing exactly how much power you will need ahead of time allows your electrician to map out the required circuits, wiring placement, and the number of outlets needed.
You need to detail your company's operation and let them know the list of all electrical equipment you plan to use. This helps your electrician design the most efficient wiring layout based on your needs.
Creating the wiring infrastructure begins well before the first nail goes into the wall. An electrical engineer at Chesapeake Electric has years of experience designing electrical layouts for various commercial buildings. They know what will work best for your type of business and have plenty of ideas to get you started.
Temporary Power Supply
When you begin new construction, there usually isn't enough electricity for your contractors to use their equipment to build a sturdy foundation. Not to mention, it can be challenging to obtain an adequate power line connection if the site is located in a remote area. Therefore, the first step in creating a functional electrical system is installing a temporary power supply.
A temporary power supply consists of a power line or generator that provides enough electricity to light the construction zone and run the tools the builder uses. This ensures a safe work environment and doesn't compromise future operations.
Your local electrical company can help install this power supply near the construction site. Once the construction site is ready with a steady stream of power, the next steps in creating a safe and reliable electrical system can begin.
Electrical Wiring
Building a commercial structure means installing the electrical wiring infrastructure. In other words, laying down conductors in designated pathways that will connect the different parts of the electrical system together.
Unlike residential homes, where wires are mostly hidden behind walls and ceilings, commercial structures like warehouses, schools, and hospitals require a more accessible wiring system.
These wires are typically safeguarded by conduits and raceways, which protect them from damage and provide a convenient way to wire the different building parts.
Moreover, the wires must be kept away from water pipes, plumbing fixtures, and fire hydrants to protect against hazards.
The slab conduits are the first part of the electrical system installed when working on new construction projects. These are buried underground and serve as a channel for electricity throughout the grounds of the property.
This is the only step that takes place in the wet phase of construction. The rest of the process is handled during the dry phase of construction.
Whether your project requires simple receptacles or advanced electronic devices, you can rely on Chesapeake Electric to install the right electrical wiring infrastructure. From 3-phase power installation to high-voltage systems, we do it all! Contact us at (443)-716-7095 to learn how we can assist you with the electrical wiring needs of your facility.
Convenience Outlets
After the wiring is complete, numerous convenience outlets are mounted to the exterior surface of the wall in the form of sockets. Wall outlets help power all your equipment, including lights, HVAC systems, devices, or other components.
Depending on the work environment and the future number of occupants, multiple outlets may need to be installed in each space. In the same way, the type of electrical sockets that are required depends upon the type of device that will be connected to the outlet.
Lighting Systems
Lighting is necessary so workers don't stumble around in dark locations while carrying out their tasks. It's not just about providing light to work by, but also about ensuring there isn't a hazard due to poor visibility.
As such, many types of lighting fixtures are available for commercial buildings. The size of the room and the purpose of each area determines what kind of lighting fixture should be used.
From task-specific spotlights to general lighting, there are options for every application.
Electrical Distribution Systems
Distribution panels are a crucial component of an efficient electrical distribution system. They distribute electric currents across the entire building. These panels have large circuit breakers, which ensure that overloads and short circuits don't occur.
They also come equipped with fuses that protect the entire panel from damage. This prevents problems when the building's electrical system is switched on.
Service Entrance
A service entrance is where incoming cables enter the structure's main distribution panel. From here, power is distributed through the building via branch circuits.
The service entrance could be an overhead wire attached to a utility pole or a more complex setup, such as a multiple-switch trough.
Branches and Feeders
Branches connect to individual circuit breakers within the distribution panel. These branches carry power into smaller areas of the building. Standard outlets and fixtures are powered by 120-volt branch circuits, while major appliances are powered by 240-volt circuits. In commercial buildings, branch circuits are used for lighting, outlets, dedicated equipment, etc.
A feeder is an electrical distribution network that connects the service entrance to the main distribution panel. It carries power throughout the entire building. Feeders are ideal if you want to make sure electricity reaches a specific point because you no longer have to go through additional wires when trying to reach it.
A feeder must be capable of supplying at least 125% continuous load and 100% non-continuous load, as stated in NEC Article 250.
Lighting Controls
In any commercial property, lighting controls are beneficial to many different applications. A well-planned lighting control installation can give your business a professional appearance.
A basic commercial lighting control system allows users to control all aspects of the lighting system. Whether you use motion sensors, occupancy sensors, daylight sensors, or timers, there are countless ways of regulating lighting during different hours of the day or night.
Lighting controls can help save energy costs, reduce glare, and illuminate only those spaces necessary for safety or productivity purposes. They can also create a more pleasant environment when people need to work.
Fire Alarm Installation
You will likely require fire alarm services if you own a commercial property. Fire alarms notify emergency responders of a problem in real-time so they can arrive quickly and address the situation before it gets out of hand.
Some common fire alarms include automatic notification devices, manual pull stations, smoke detectors, carbon monoxide detectors, and fire sprinkler systems. All of these systems should be located in accordance with local codes and regulations. You can choose between the various options depending on your needs.
Contact us today if you'd like assistance selecting the right type of fire alarm systems for your commercial property.
Emergency Lighting and Signals
An emergency lighting system (ELS) is designed to provide light in the event of a blackout, fire, or other disasters. An ELS may consist of battery backup units, generators, solar panels, and automatic transfer switches. Some establishments, such as hospitals or schools, mandate that their facilities have an ELS.
To ensure proper operation and maintenance of your emergency lighting, it's important to have a plan in place. Depending on where your facility is located, this could involve installing a separate monitoring system.
Emergency Power Systems and Generators
Whether you operate a restaurant, a retail store, or a manufacturing plant, having access to backup power during a crisis is critical.
Power generation equipment used in commercial properties includes standby generators, diesel engines, natural gas systems, and batteries. The type of generator you select depends on the number of employees you expect and how much electrical power your building consumes.
Before choosing a particular generator, consider the location and size of your building, the number of electrical loads you'll have at any given time, and what kind of operating conditions you anticipate.
Choosing the Right Electrical Design for Commercial Buildings
Your commercial building's electrical design depends heavily upon its purpose. A hospital will have completely different wiring needs than a factory, a warehouse, or office space.
The National Electrical Code (NEC), also known as NFPA 70, sets forth rules and guidelines for all aspects of an electric installation. These standards dictate the minimum requirements for the wiring that must be installed in every commercial building, regardless of size or use.
The NEC contains several provisions related to commercial construction site safety. Most notably, the code specifies that all circuits shall be properly marked and labeled. Additionally, the NEC outlines specific requirements for the placement of circuit breakers, ground fault indicators, disconnect switches, and emergency lighting.
Additionally, several OSHA standards are directly tied to the NEC. In fact, many of OSHA's most basic workplace safety requirements (e.g., standard 1910.307(c)(2)(i)) match the NEC. This is because many codes governing safe work practices overlap with those regarding electrical installations.
At Chesapeake Electric, we largely focus on commercial projects for both remodels and new construction. From schools and restaurants to shopping centers and medical facilities, we have completed hundreds of successful projects for developers, property management companies, general contractors, and subcontractors.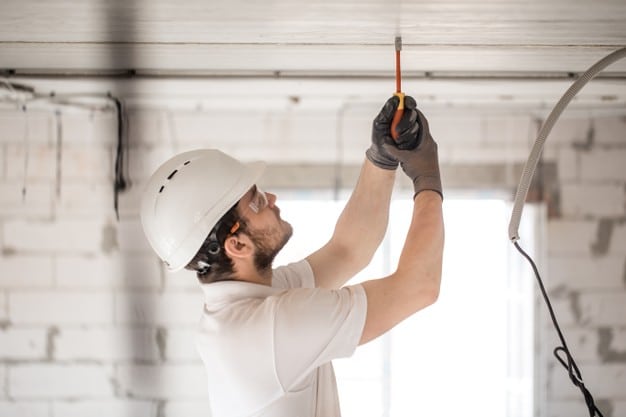 Licensed Master Electricians at Your Service!
We understand the importance of selecting an experienced contractor when working on commercial buildings, especially if the project will be large or complex. That said, our team has years of experience completing projects ranging from small-scale residential remodels to major commercial developments, including multi-story hotels, hospitals, warehouses, churches, schools, retail stores, and more.
Our highly qualified and professional technicians can handle even the most challenging electrical jobs. Regardless of how complex your electrical requirements are, we do offer professional consultation throughout the entire process. Our talented team can assist you in designing your commercial building's electrical layout, installing all required utilities, and performing routine maintenance and repairs.
Whether you need help with temporary power, generator hookups, conduit runs, alarm systems, lightning protection, electrical service plans, or troubleshooting, our team can provide you with expert advice. No matter what project you may be considering, we can help you achieve it safely and within budget. We work closely with architects, engineers, and contractors to ensure everything goes according to plan.
Why Partner with Chesapeake Electric for Your Commercial New Construction?
Chesapeake Electric is a locally owned company committed to providing unparalleled electrical services to our clients. With the help of our skilled master electricians, we can ensure that your build meets all local code compliance while providing peace of mind that your electrical systems are being installed correctly during construction. We want your project to go smoothly from start to finish so we do everything we can to minimize potential issues and reduce downtime as much as possible.
With many years of industry experience, our licensed commercial electricians are equipped not only to meet but to exceed industry standards. We take pride in our craftsmanship, allowing us to complete any job promptly and accurately. Whether you need us to wire your space or inspect and repair existing wiring, our team will stay up to date on electrical principles, regulations, and safety guidelines.
We are proud to have been named as the best electrician in Annapolis, MD by various publications. When choosing Chesapeake Electric for your next project, you can be confident that your business will receive top-quality services with unmatched integrity.
If you are planning to construct a new restaurant, office, hospital, retail store, or other commercial facilities, reach out to Chesapeake Electric today. Our electrical engineers will work with you to create a custom electrical systems design to fit your needs and we will install all your required systems and devices.
You can expect fast response times, knowledgeable expertise, and high-quality service. Call us at (443)-716-7095 or contact us online to schedule a consultation for your commercial new construction project in Maryland.