In our everyday lives, we spend a lot of time indoors. That's why it is so important to take care when installing light fixtures because they can have an impact on your mood and mental state! But what about the exterior? You might not always realize how effective lighting is when installed outside- but it is! Good lighting can make you feel more secure in your home, while also providing an inviting atmosphere for entertaining or simply relaxing in your backyard. Whether you're looking to improve the security of your property or simply want to add some curb appeal, outdoor lighting is a great way to achieve those goals.
At Chesapeake Electric, our company understands the importance of properly designed and installed outdoor lighting systems. As outdoor lighting installers, we offer a variety of services to help you create a fantastic outdoor lighting system for your home or business. Our team of experienced electricians will work with you to assess your needs and develop a custom solution that meets your unique requirements.
Let's explore how exterior lighting is utilized, as well as the advantages that these systems provide and the residential and commercial outdoor lighting perspectives that may revolutionize your building's exterior.
Outdoor Lighting Ideas For Your Property
Outdoor lighting fixtures may be classified based on their purpose, which is determined by the goals you wish to achieve with your illumination. In some cases, you will want to light a walkway or entryway for safety reasons; in others, you may be looking to create a certain ambiance or highlight the architecture of your home. This outdoor lighting guide will teach you about different sorts of outdoor lighting systems, as well as where they can be used around your property!
Floodlights
Floodlights feature a movable beam with an adjustable angle that may be adjusted to focus on a certain section of the outdoor area. They can be built into the ground or installed on buildings, walls, or poles. Keep in mind that LED floodlights last longer and require less electricity than halogen or fluorescent floodlights.
Usage
Outdoor floodlights are the best way to illuminate any object or area that needs brightening. They're also perfect for large areas, such as sports fields and parking lots! Floodlights may be used to improve safety by making it easier for people to see and avoid the risks that might cause falls, trips, and slips. Finally, floodlights can also help to minimize and prevent property damage, crime, and vandalism.
Caution
There are a few things to keep in mind when using outdoor floodlights. First, make sure the area you're illuminating is clear of obstacles. Second, aim the beam of light carefully so that it doesn't shine into people's eyes. Finally, don't leave the floodlights on for longer than necessary to avoid wasting energy.
Flood lights may be used in the following outdoor locations:
Driveways, sidewalks, and parking lots
Billboards and signage
Patios and pavilions
Outdoor performance locations, and so on.
Outdoor Wall Lights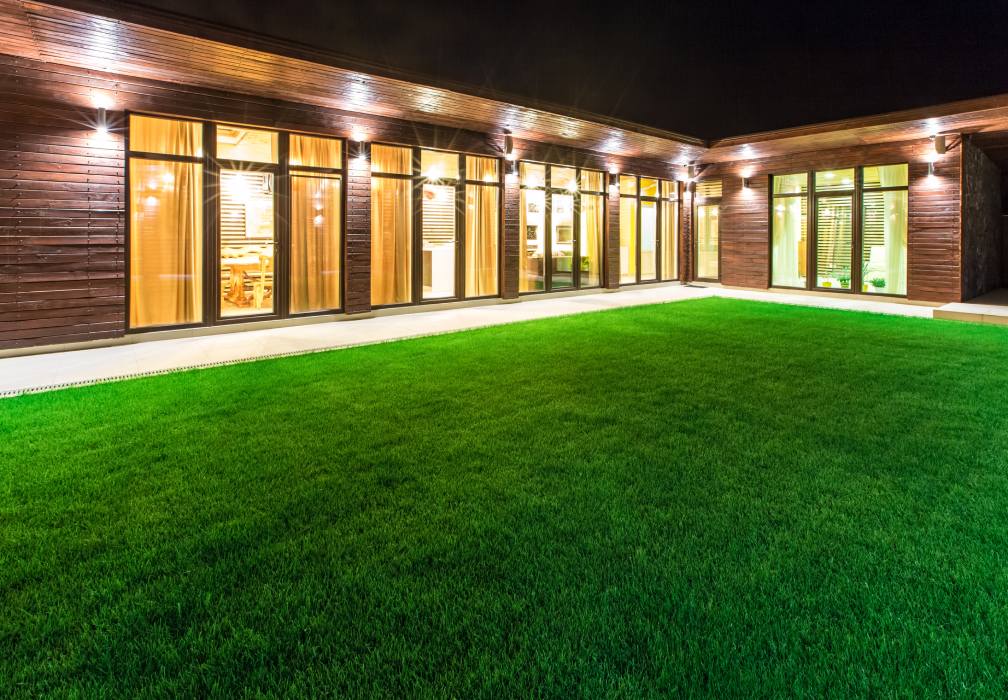 Outdoor wall lights come in many different styles and designs, so you should have no trouble finding something to complement the look of your home.
These lights are attached to the walls of your property, and the exterior lighting effects can range from increased safety and security in tiny outdoor spaces to improving the overall appearance of your building. Always keep in mind that outside wall lighting can take many forms and be quite subtle or even powerful. They may include accent lights or spotlights.
Application
Before you start looking for outdoor landscape lighting fixtures, figure out what your building's requirements are.
For example, you may consider a spotlight for your outside space when, in fact, you require a wall-mounted light. To help you make the best decision on the right outdoor lighting fixtures for your property's needs, it is important to consult an expert electrical contractor.
Choosing the ideal exterior lighting effects and fixtures for your system doesn't have to be complicated or costly, especially if you have a skilled landscape lighting company to help you.
Lamp Posts
Post lights may be used to add a polished aesthetic to landscape design in either commercial or residential settings. They are often placed along driveways or pathways to provide light for pedestrians to see at night. Post lights can also be used as accent lighting for various features in the landscape, such as focal points or garden statues.
There are many different styles of post lights available on the market, so it is important to select one that complements the overall look of your property. Lamps are available in a range of designs and materials, including copper, aluminum, and wood, making them both attractive and useful.
Motion Sensor Lights
Motion sensors or photocells may be used to regulate lighting outside. Most motion sensor lights are equipped with an infrared sensor, which is triggered when something or someone passes in front of it. The light will then stay on for a set period of time, usually around 30 – 60 seconds. Some models may have longer or shorter durations of time.
These types of lights may be used to deter crime, or simply to facilitate movement in the dark. This is a great security and safety device, but also an energy saver since the light typically stays on for just a few seconds or minutes. There's also a built-in timer that you may change depending on how long you want lights to stay on after the sensor detects motion.
A photocontrol, like a timer, is most often used to control parking lot lights. When the sun sets or a particular level of darkness is reached, the lights turn on at dusk and then off at dawn. Photocells are also used in a variety of outdoor lighting settings in residential and commercial properties.
Motion Sensor Lights Are Commonly Used in the Following Areas:
Walkways
Garages, Driveways, and Alleyways
Entrances and Exits
Benefits of Landscape Lighting
Peace of Mind
Whether it's a home or business, there will be times when no one is there to defend against intruders. It's common for thieves, vandals, and bad people to gather in an open parking lot at commercial properties. In addition, in residential areas, robbers and intruders are frequently emboldened by the knowledge that residents have been away from their homes for a long time, whether for a vacation or other causes.
However, with the property illuminated by a sufficient number of outside lights, criminal activity around your home is significantly less likely. According to research, outdoor lights can reduce crime by up to 39 percent. This makes outdoor lighting an important security measure.
It can be a simple measure, such as a well-lit porch light, or something more elaborate like floodlights, motion sensor lights, and security cameras. No matter what level of outdoor lighting you choose, it will give you peace of mind knowing that your property is better protected. In addition, installing a motion sensor outdoor lighting system can also help to deter uninvited visitors to your home, as well as provide you with peace of mind that it is secure and safe while you are away.
Sets the Mood For a Social Gathering
Landscape lighting is another great way to add ambiance and decor to your home. It may be used to light up a deck or patio after dark, making it more pleasant to be relaxing or hanging out late into the night. This is ideal for social gatherings and the like as it sets the mood for relaxation and conversation.
It can also be used to accentuate certain features in your yard that you want to show off, such as a fountain or garden. By having the right landscape lighting, you can make your home more inviting and welcoming to guests.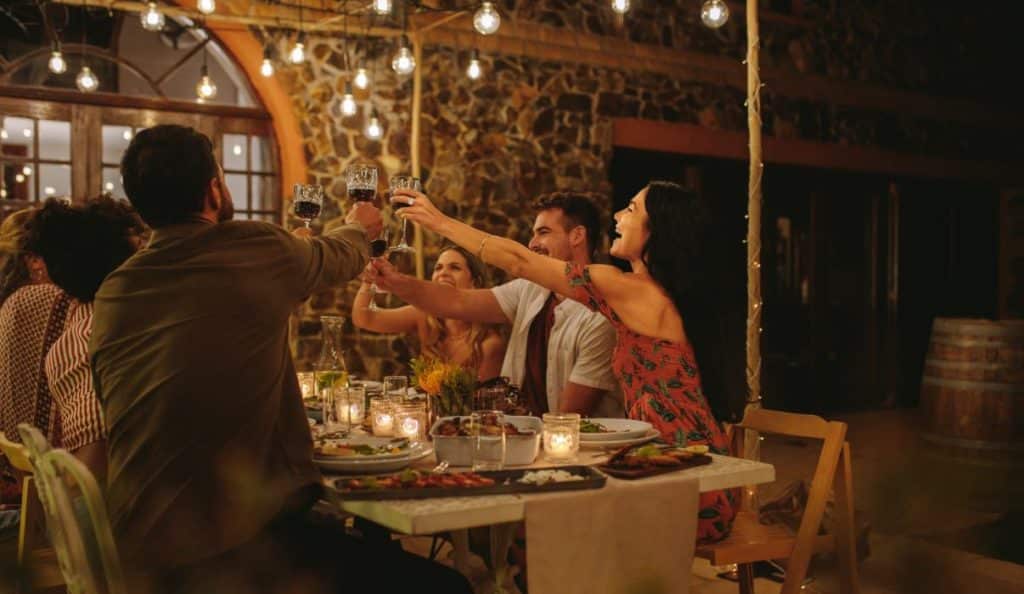 Pest Maintenance
Outdoor lighting is not only beneficial in keeping unwanted visitors away from your home, but it also repels pests of all kinds! If you live in an area that is prone to skunks, squirrels, or raccoons, consider investing in some outdoor lights that can help keep these pests at bay.
These motion sensors, for example, will come on one when pests approach your lawn and startle them, causing them to flee. These landscape lights also give you a layer of protection by illuminating your path at night, allowing you to see the hazard of additional ravenous pests such as alligators or cayotes. This is extremely essential, particularly for families with little children!
Not only will this provide you and your family with a bit of extra protection from harmful pests and animals, but it can also make your yard much more enjoyable to spend time in.
Outdoor Lighting Prevents Personal Injury Lawsuits
As a property manager or homeowner, it's important to be aware of any hazards that could hurt the people around you. A proper lighting system will prevent accidents by making sure there is visibility at all times!
This is especially important because, if a client or employee suffers an injury on your premises as a business owner, you may be open to legal ramifications. By having well-lit parking lots, walkways, and stairwells, you can avoid any potential lawsuits that could come as a result of an injury on your property. In the long term, having a correctly installed outdoor lighting system will save you money in the long run.
Lower Insurance Premiums
You may save money on your property insurance by having a fully functional outdoor lighting system. By decreasing the risk of break-ins and vandalism, you may be able to get a lower insurance rate.
Some home insurance companies offer discounts of up to 20% for commercial properties with well-lit exteriors. These companies reason that well-lit properties are less likely to be broken into because would-be burglars would be naturally discouraged. Not only will outdoor lighting deter crime, but it will also indicate that you are serious about the safety of your home or business by making it less likely to occur. All of this will result in reduced premiums.
A Well-lit Outdoor Area Can Increase the Value of Your House
It's no surprise that custom-built landscape lighting is preferred by home and property owners. Studies have shown most people prefer well-designed, high-quality outdoor lighting installation! According to a poll, 49 percent of people interested in purchasing a house feel that outside lighting is essential.
It has been demonstrated numerous times people are eager to pay more for things that appear attractive and provide more value than others. Regardless of the hour, homes with landscape lighting provide protection, enhance security, and help to unwind. They also have a spectacular view and an ideal ambiance at night. This is the sort of value that customers are prepared to pay a premium for!
As a result, developing these outdoor living spaces and creating innovative light schemes around them may substantially improve the value of your property and provide your family with many years of enjoyment to come.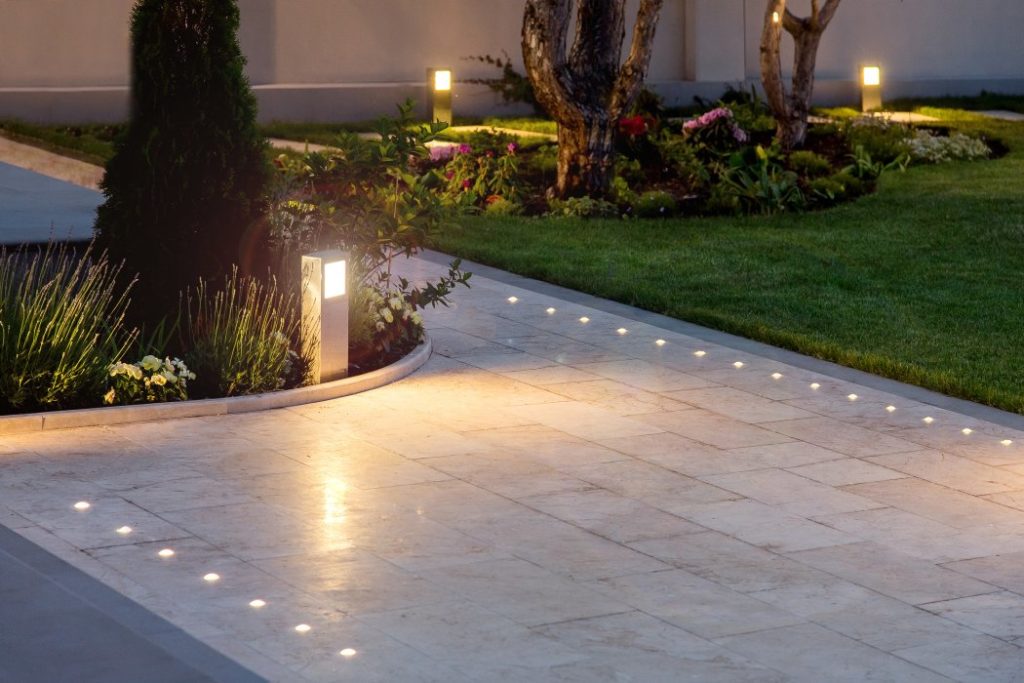 Light Up Your Home with Our Outdoor Lighting Services
While it is possible to find some good quality lighting at your local home improvement store, the best way to get exactly what you want is to consult with the best outdoor lighting companies. A designer will be able to help you create a system that not only looks great but also performs well and is cost-effective. This is where Chesapeake Electric comes in!
Our company has a long history of providing our clients with the highest quality outdoor lighting available on the market today. We use only the best materials, and our team of highly skilled professionals has the experience and expertise to create a lighting system that will meet your every need.
If you are looking for an outdoor lighting company that can provide you with the best possible service and products, then look no further than Chesapeake Electric! Through cutting-edge outdoor lighting technologies, we can have your outdoor lighting installed to increase the value of your property, improve safety, and decrease insurance costs! Fill out our online contact form to find out more about our services.