One thing that your home and/or business rely upon is its electrical system. Unfortunately, most people tend to neglect these important systems until there is an issue. Just like a building's infrastructure, the electrical system also needs timely service, otherwise it might become prone to breakdowns or hazards that can be dangerous for your family and costly for your business.
Routine electrical service is the easiest way to keep the system running smoothly and safely. But what exactly is routine electrical service? Do you really need it? Who should you call when you need electrical maintenance services in Crofton, Maryland?
This detailed guide will tell you everything you need to know about regular electrical service, its benefits for homes and businesses, and how to find the best Crofton electricians.
What Is Electrical Service or Maintenance?
Electrical service is the process of ensuring that the entire electrical system is kept in good working order. The process includes inspecting, testing, and repairing all electrical components in order to prevent any problems that could cause loss of power, damage to the electrical equipment or building structure, or an electrical fire.
These routine services are essential for homeowners and businesses, as it helps ensures safety for the residents, visitors, and employees. For businesses, it curtails downtime and also prevents hefty electrical repair costs in the future, which every business owner knows can quickly add up.
When you hire expert electricians in Crofton, MD, they will follow a detailed service checklist to make sure all the electrical appliances and connections are in good shape and safe for further use.
Some examples of tasks included in the routine electrical service include:
Inspection of power outlets, electrical connections, wiring, circuit breakers, and electrical panels.
Measurement of the system amperage and voltage.
Review of lighting, ceiling fans, and major appliances.
Review of all connected equipment and electrical field.
Repair of any electrical damage.
A certified electrician will go through all the electrical components in your home or business to ensure everything is working perfectly. In many cases, routine electrical service is preventive, which can save money in the long run and help stave off downtime.
If they encounter any electrical damages, the electrician will repair them to get the system running and reduce the risks of future mishaps.
Common Electrical Service Techniques
Electricians use different types of electrical service techniques in Crofton, MD. The technique the electrician will use depends on the condition of the electrical system and other factors, such as the age of the system, the electricity load, frequency of use, and so on. These techniques generally include:
Preventive Service or Maintenance
Preventive maintenance is a routine electrical service that consists of testing the components of the main electrical system. With this regular service, a professional electrician will test everything from the outlets and circuit breakers to the wiring and electric panel. Maintenance service aims to ensure that the electrical system is performing as it should and is not vulnerable to significant issues, such as blown fuses or power failures.
Failure-Finding Maintenance
For this type of service, a certified electrician runs an approach to find flaws that might compromise the safety of your home or business electrical stem. The technician will also check and test all backup systems, such as the backup generator, to make sure they are ready to serve you in the event of a blackout. Read our interesting post on five ways generators give you peace of mind.
Predictive Maintenance
Predictive electrical maintenance involves inspecting the parts of the system that are prone to breaking down. An electrician will perform multiple tests, such as temperature analysis and infrared screenings, to analyze the emissivity and reflection of the system. They can then focus on repairing the problem areas.
Time-Based Maintenance
Some parts of your electrical system need to be changed or updated after a certain period of time; if not, they can even lead to a complete system failure. For example, an electrician might choose to replace an HVAC filter every four months, regardless of its condition, to make the system run smoothly.
Corrective Maintenance
Corrective service and maintenance deal with any breakdowns. When your system is not working properly, a professional electrician will find the flaw and will repair the issue as required.
Chesapeake Electric is your all-in-one electrician in Crofton, Maryland. We offer routine electrical maintenance services to keep your home and business system operating without issue. Whether you require outdoor lighting installation, a new outlet in the dining room, a circuit breaker check, or any other electrical work, we have everything covered for you. Contact us for more information about our electrical service packages.
The Benefits of Routine Electrical Service for Homeowners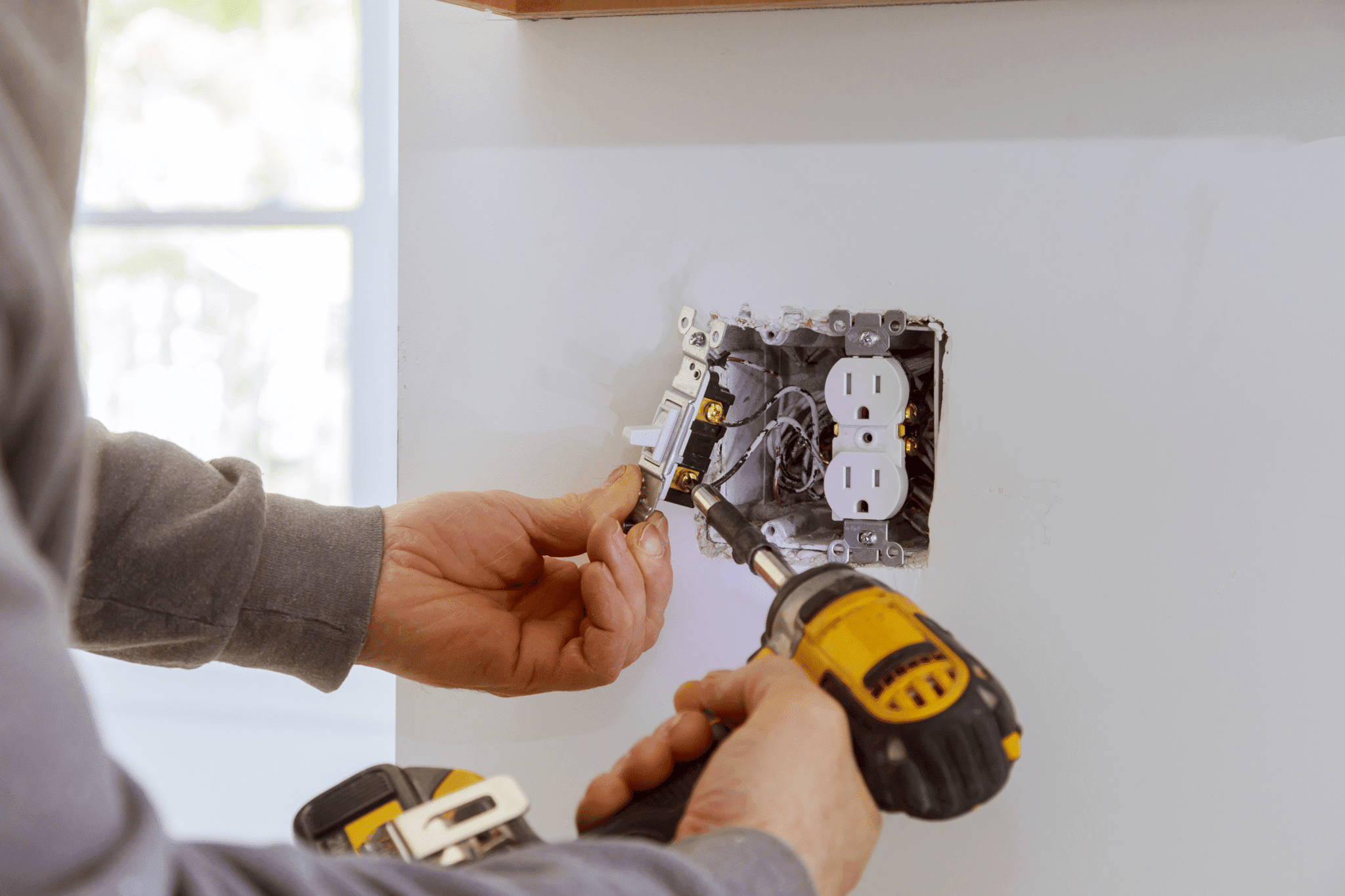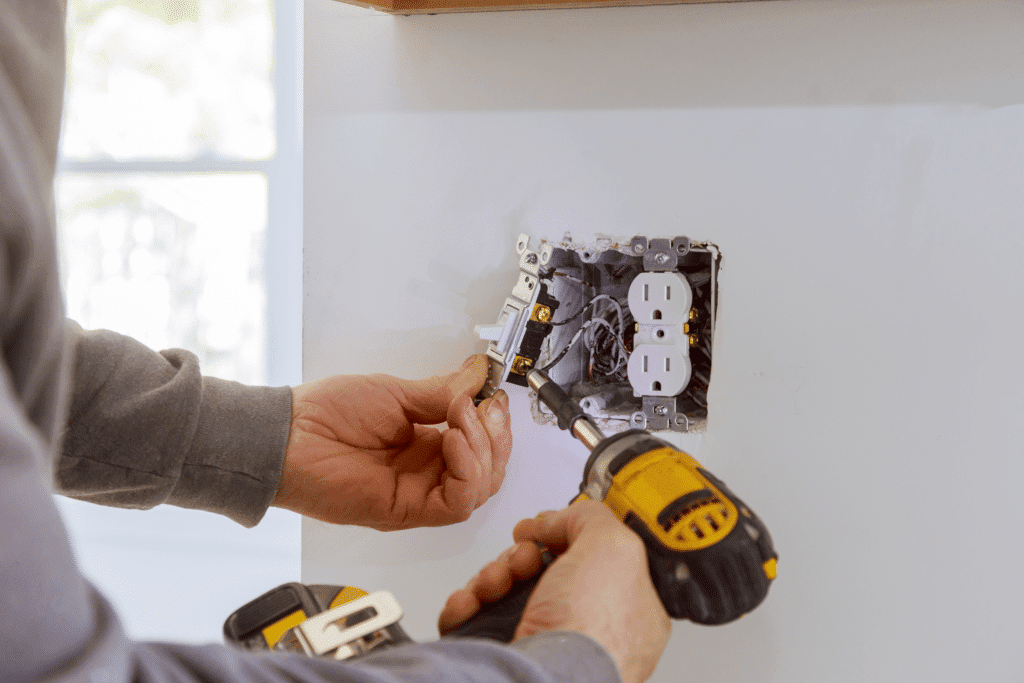 Consistent residential electrical service offers many benefits to homeowners in Crofton, and overlooking it is not a choice. Here are the advantages you can expect if you call the best electricians to service your residential electrical system.
Maintains the Safety of the Property
One of the major contributors to short circuits and electrical fires is a lack of maintenance on the electrical system. However, routine electrical service curtails the risks of such issues.
Checking and testing the electric components and equipment on a regular basis helps the electricians determine whether there are faulty wires and devices. They can replace any elements nearing end of life to make sure they don't break down and put you in danger.
Keeps the Electrical System Up to the Code
Every city in Maryland has a legal code that regulates electrical equipment, electricity, and electrical safety. Electricity service professionals understand these codes and can ensure that your home's electrical system meets the standards.
Also, a professional electrician can find out if a new house is up to code. They will be able to make recommendations or complete repairs to help you stay safe and legal.
Keeps You Informed
Every homeowner should know the important things about the electrical systems installed in their property. When you have routine electrical service from a professional company, they will educate you about your electrical system, such as how frequently you should schedule a service, what equipment would work best, and what to do if something goes wrong.
As a result, you can make smart decisions that'll save you time and money.
Reduces the Risks of Blackouts
Your electrical system must work efficiently because power is vital for most home dwellers, especially kids and seniors. Any instances of blackouts or power interruptions can cause significant inconvenience. A blackout can also turn the HVAC off, causing extreme temperature changes and increasing the risk to people's safety.
However, routine electrical service is a way to minimize these problems. When the electrical system is in good condition, there are fewer chances of blackouts.
Saves Money on Repairs
Blackouts and power interruptions aren't the only issues you might experience without routine electrical service. Another thing that comes along with these issues is expensive electrical repairs. Furthermore, you might incur extra emergency charges if you want to get the faults repaired at the earliest. Opting for regular electrical maintenance can save hundreds, if not thousands, of dollars every year.
Keeps Your Equipment Working at Maximum Efficiency
When electricians take care of your electrical system and appliances at timely intervals, they ensure that everything works efficiently. Regular maintenance, such as finding and repairing faulty parts, certainly helps reduce wear and tear while decreasing the risk of losing power.
Additionally, a more efficient electrical system consumes less power, thus, reducing monthly utility bills.
At Chesapeake Electric, we determine what problems you may experience with energy consumption to provide you with the best solutions for your needs. Whether it's an old property or a new construction job, you can contact us for more information about residential electric service in Crofton, MD.
» More: 5 Cases Where You May Need an Emergency Electrician
The Benefits of Routine Electrical Service for Businesses
Your business depends on the electrical system in order to stay in operation. Even brief power interruptions can disrupt vital processes and cause significant issues. Here are some benefits of routine electrical service for businesses in Crofton, Maryland.
Keeps Your Employees and Customers Safe
As a business owner, your biggest responsibility is to ensure the safety of your customers and employees. No matter the size of the building or electrical system, life-threatening issues such as shocks or fires can arise if electrical needs are not met.
By performing proper maintenance, professional electricians will ensure that there are no risks of related to power issues, assuring protection for your customers and employees.
Prevents Any Major Problems
Minor electrical problems have a way of turning into bigger ones. Improper or no maintenance of the fixtures, switches, wiring, and appliances can compromise the operation of the entire system.
Routine electrical system maintenance technicians can discover these issues before they become more prominent and require major repairs.
Ensures Reliability
Your business most likely has hundreds of electric components, appliances, and devices that need power, and routine maintenance ensures that all these items work together perfectly.
Prevents Stoppages
No business owner would want a stoppage that can halt operations. However, electrical system failures and problems can bring everything to a stop and cause money-costing downtime. Keeping the electrical system well-maintained helps curtails the chances of stoppages.
Reduces Utility Bills
Faulty electrical appliances and bad wiring consume more electricity than usual while possessing a risk of failure. Professional electricians can fix all faulty appliances during the routine service. They can also make recommendations and offer a free estimate for upgrades that will reduce your overall utility bill.
Increases Productivity
Well-maintained electrical systems and appliances can ensure your business has the power it needs to be productive. Regular maintenance and service help find issues before they can interrupt the productivity of your business.
It also helps resolve an issue at an early stage with little to no effect on productivity.
Do you need routine electrical system repair and maintenance services in Crofton, Maryland? Contact Chesapeake Electric and schedule a service. We can take care of your commercial electrical system maintenance needs, and you can count on us.
Tips for Choosing the Best Electrical Service Company in Crofton, Maryland
To experience the benefits mentioned above, you must engage a reliable and reputable electrician – Crofton, MD. Here are a few tips that will help you select the right company.
They Should Be Local
The first thing you need to look for is whether the electric company operates locally or not. A local company can reach the location quickly in the event of an emergency. Also, they understand the local electrical codes of the area well, which ensures your electrical work meets the requirements and doesn't pose a safety threat.
They Should Be Experienced
Maintaining an electrical system is complex and requires training and experience. When looking for an electric service company, make sure they have been in business for at least a few years. You should also make sure the technicians are all licensed and insured. Additionally, it never hurts to ask about the specific jobs they've done in the past that are similar to your project.
They Should Understand Your Needs
Every electrical system, whether for a home or a business, is unique and has special electrical needs. The electricians you choose should be able to understand the needs of your specific system and your personal requirements. For example, if you want to upgrade old recessed lighting or a ceiling fan to a modern smart lighting system, the electrician should be able to explain the limitations of the room and recommend the best fixtures accordingly.
At Chesapeake Electric, we are a customer-centric company in Crofton, MD that will understand and prioritize your needs. You can confidently hire our master electricians for your all your residential and commercial routine electric service needs.
They Should Entertain Emergencies
Electrical emergencies usually don't give you much warning and might arise at any time. Having an electric service company that offers emergency services in your phonebook is a practical precaution to take. Look for a company that will respond to calls within one hour and offers emergency services in your area.
Note: Most reliable companies charge extra for emergency services, but don't let the extra charge affect your decision because your house or business depends on the functioning of the electrical system.
They Should Be Able to Predict Problems
Predictive service of the electrical system and appliances is a way to prevent future issues. Experienced electricians in Crofton, MD can predict issues by inspecting the system and connected appliances. When you hire an expert electrician, they should be able to see an issue developing during the routine inspection. If caught early on, most electrical repairs don't have a huge impact.
Choose Chesapeake Electric for Home and Business Electrical Service Needs
Routine quality electrical services ensure the electrical system in your home and business works properly. It also reduces the risk of electrical hazards and blackouts.
Chesapeake Electric is a locally owned and operated business in Crofton, Maryland, with hundreds of satisfied customers. We have a team of professional electricians committed to doing excellent work and delivering great service. You can trust us with all the electrical work on your projects.
We offer various services, including regular maintenance, electrical wiring installation, circuit breaker panel replacement, fuse box repair, outlet inspections, smart home upgrades, AC and DC electrical installations, and much more. We provide routine home as well as commercial electrical service. Our skilled electricians are even available for emergency issues. Our clients' safety and satisfaction are our top concerns.
We're equipped to handle anything from making sure your standby generators are ready to go to inspecting your high-voltage distribution systems to keep operation running. Our electricians offer complete electrical contracting services from design to installation to ongoing maintenance. We will work closely with you throughout the process to ensure your vision becomes a reality and your electrical system works without interruption. Contact us today!
You can also reach out online.